"It's like a million dollar webinar with ideas compacted to an hour of webinar." - Gelliane
Podcast: Selling with Dignity Harry Spaight andJennifer DeRosa on SEO
What is seo and what does small businesses need to know about seo?
What does search engine optimization have to do with sales? EVERYTHING!
podcast: Wantrepreneur to Entrepreneur Podcast
Your website's STRATEGIC blueprint
The primary goal of your website is to attract a substantial amount of traffic. So, how can we achieve that desired influx of visitors?
Live Event: SCORE Space Coast BizFest 2023
How to Build a Highly Effective Home page
Your home page may be the only time you have to make a first impression, and you have 3-5 seconds to make a good one. You can't afford to ignore your home page.
In-Person Event: SCORE Fairfield County 2023
HOW TO USE AI (LIKE CHATGPT) TO PROMOTE YOUR BUSINESS ONLINE
Are you curious how you can use Artificial Intelligence in your business, but you don't know where to start?
I'll show you real examples and live demos of how AI can help with: content writing, answering customer service questions, automated data analysis tasks and more!
2023 SCORE Gold Level Presenter
Jennifer has been awarded the Gold Level Presenter by the Broward County SCORE Chapter for her presentations in 2023
"I was just on your webinar, it was very good, lots of information!" - Kevin
"I took your class and it was awesome!" - T.
"I attended your Score SEO presentation today and it was fantastic. I learned so much in a short time. I really enjoyed your high energy and expertise!" - Esther
"I enjoyed the webinar you provided us with a lot of helpful information" - Shannon
"I loved your presentation, you are so lively and cute the way you present yourself. Obviously, you know your stuff!!!" - Duke
"Your presentation was fire!! LOL!" - S.M.
"I enjoyed your presentation last night, ... a lot of info I hadn't been taught! I appreciated your energy, enthusiasm, and knowledge just to name a few. " - Roland
"Thank you for your enthusiastic and informative webinar! I learnt a lot." - T.
"Thank you, Jennifer! Excellent presentation! Great information for our ... participants. Your content was very informative. Your enthusiasm was infectious. Want you back soon!" -Fred
"Thank you for putting on the SCORE Webinar! I could feel your passion." - Matthew
"This webinar was so informative, I now have some tools to rebuild my website." - Tina
"I just sat through your SCORE presentation and it was fantastic. I learned so much from you today. Thank you for what you do!" - Danielle
"It was incredibly informative and I will definitely be putting this to use; 90% of this information was new for me, so thank you!" - Heather
"Thank you for the presentation through SCORE today about SEO. I learned a lot. Please add me to your email list." - Bryan
"What an excellent presentation you just did! Thank you!" - Case
"I've learned a lot from your webinar today ...Are you a SCORE Mentor as well? I'd definitely want to sign up with you." - Daniel
"I find your webinars very useful" - M.
"Thank you very much for your interesting webinar on how to get our message out. You are a very dynamic and enthusiastic presenter. That makes your presentation very enjoyable." - Edith
"You are a terrific host and teacher- thanks so much!" - Ed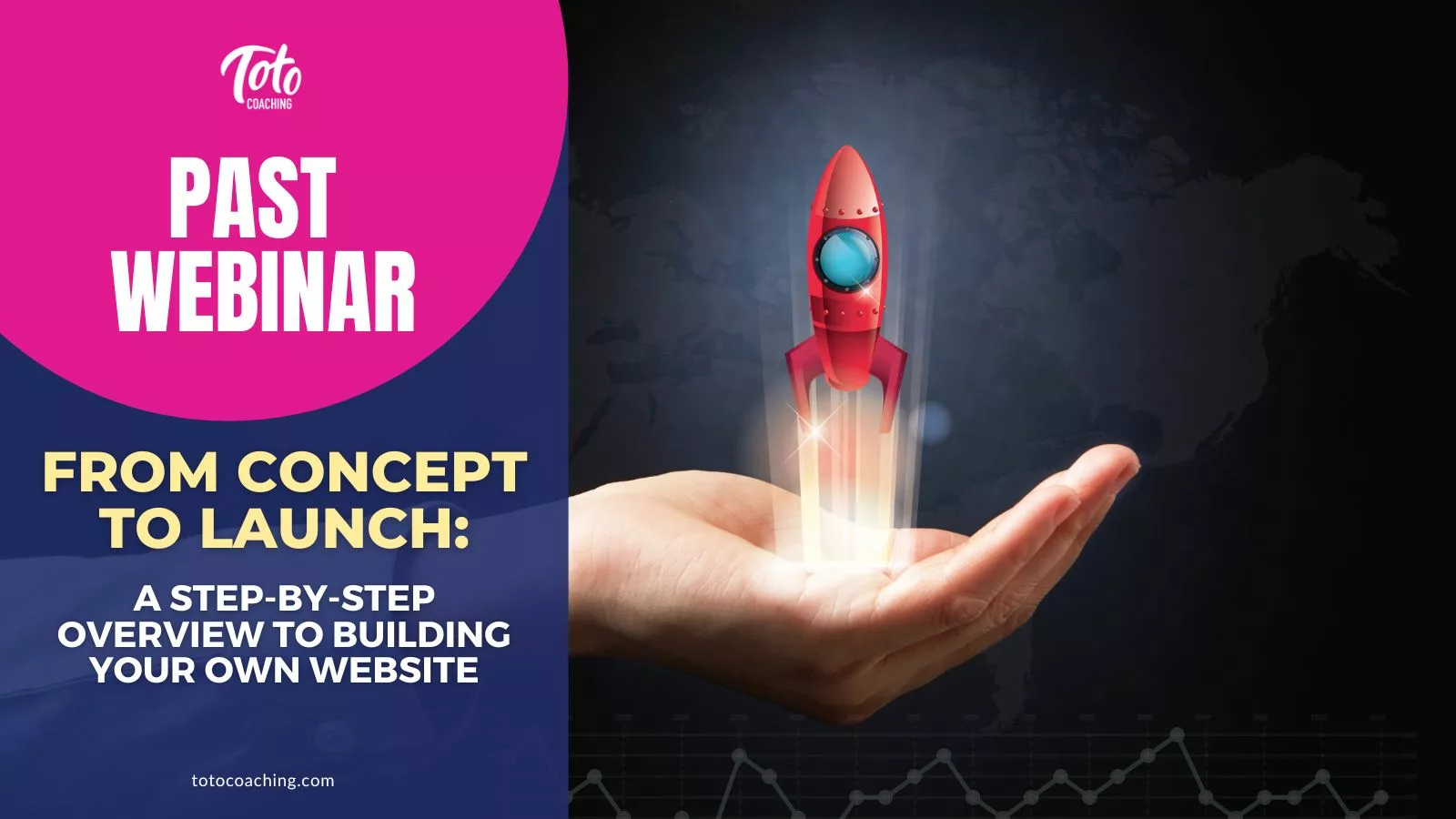 FROM CONCEPT TO LAUNCH:
A STEP-BY-STEP OVERVIEW TO BUILDING YOUR OWN WEBSITE
Learn how to break down the process of building a website into clear and manageable steps to avoid costly mistakes and confusion that often come with building your own website.
HOW TO HIRE AN SEO AGENCY: INTERVIEW QUESTIONS TO ASK.
Ready to boost your website's visibility but unsure how to choose the right SEO agency? You're not alone! Learn what a trustworthy SEO agency should be doing to enhance your website's reach and understand which services merit your investment and which simply don't.
USING AI TO WRITE YOUR WEBSITE COPY: DO'S AND DON'TS
Have you seen headlines about AI and how it can write your entire blog posts so you don't have to? We will test some live scenarios to see AI writing tools in action.
How to Make Your Website Copy Look Amazing
Have you written the copy for your website? Watch as we show you how to lay out your website copy so it is gorgeous and inviting and how to break up your content to design a beautiful page!
ELEVATE YOUR WEBSITE: SIMPLE STEPS FOR A MODERN AND UPDATED LOOK
Do you have a website that is a bit outdated? Come learn the 7 quick and easy things you can do to bring new life to your website.
How to Build a Highly Effective Home Page: Best Practices
How can your homepage attract potential clients within 5-8 seconds? Your home page may be the only time you have to make a first impression, and you have 3-5 seconds to make a good one. You can't afford to ignore your home page.
DOES YOUR WEBSITE PASS THE 5 SECOND TEST?
In 2022, you have about 5 seconds to capture the attention of your website visitor, the visitor knows what your company can do for them and what steps should they take to engage with your organization or company.
HOW TO HIRE A GOOD WEBSITE DEVELOPER
SCORE, a national organization of seasoned volunteers who help others start and grow businesses, chose Jennifer's presentation on "How to Hire a Web Developer" as part of their "Best of Series for 2022."
HOW TO USE AI (LIKE CHATGPT) TO PROMOTE YOUR BUSINESS ONLINE
Learn the techniques of harnessing the true potential of ChatGPT and other AI writing assistants to boost your business productivity.